Vacuum Jacketed Transfer Lines
AET Designs and Manufactures vacuum jacketed transfer lines for the cryogenic industry. This application is utilized to transfer gases/liquids with a low boiling point while shielding them from atmospheric interference.
These piping assemblies can also include Flex Segments to help with customer connection point alignment.
Transferring cryogenic liquid without vacuum jacketing can cost a large amount of money due to heat leaks. Keeping waste costs down can mean more funding for other parts of your project, or in some cases, more end product to sell to your end user.
For more information on vacuum jacketed lines, see the tabs below.
These assemblies are commonly used for:
Thermal Expansion/Contraction Relief
Slight Alignment Control
Advantages to AET Flexible Assemblies:
Large Range of Flex Diameters
Multiple End Connection Choices
With or Without Braid (Dependent on Design Pressure)
Material Certifications Available Upon Request
Vacuum Jacketed Pipe, also known as Vacuum Insulated Pipe or Cryogenic Piping, is a highly effective solution designed for the safe and efficient transfer of low boiling point liquids—such as liquid nitrogen or liquid oxygen—from one location (point "A") to another (point "B"). This type of piping is especially critical in industries where maintaining extremely low temperatures during liquid transfer is essential.
In a typical vacuum insulated pipe segment, as illustrated in the diagram below, the inner pipe or tube contains the process medium. This inner pipe is surrounded by multiple layers of mylar-based super-insulation, which serve to minimize heat ingress and thereby keep the contained fluid at a consistently low temperature.
To further prevent thermal transfer, low-heat leak spacers are strategically placed between the inner and outer tubes. These spacers keep the two tubes separated and ensure that there is no direct metal-to-metal contact, which could otherwise create a path for heat to leak into the inner tube.
The outer pipe, which encapsulates the inner tube and its insulation, is integral to the system. A pumpout port is fitted to this outer pipe, which allows for the removal of air from the annular space between the inner and outer pipes. By evacuating this space, a high vacuum is created. This vacuum serves as an insulating barrier that dramatically reduces heat transfer, thereby ensuring that the liquid within remains at its cryogenic temperature as it is transported through the pipe.
These vacuum insulated pipes are essential components in various applications including the distribution of liquid gases in laboratories, healthcare facilities, and industrial plants. They are engineered to provide maximum thermal performance and are designed for easy installation and long-term, reliable operation.
By using vacuum jacketed pipe from AET, you are choosing a product designed with precision and constructed to the highest standards, ensuring that your cryogenic liquids are transferred efficiently and safely.
Function: The Cryogenic Society of America is a not-for-profit organization dedicated to serving the needs of individuals and companies who are involved in advancing applications that require low-temperature solutions.
Resources: This organization provides a wealth of information and resources related to all things in the Cryogenic industry. They offer seminars, workshops, and conferences for professionals, as well as educational materials for those looking to learn more about the industry.
Publication: For those interested in staying up-to-date on industry trends and news, the society publishes a quarterly issue of the "Cold Facts" magazine, which features articles on various aspects of cryogenics, including technology updates, profiles of companies in the industry, and upcoming events.
ASME B31.3 - Process Piping Code
Purpose: ASME B31.3 is a widely recognized and respected set of guidelines for piping safety. Developed by the American Society of Mechanical Engineers, it has been adopted into the design of many vacuum jacketed pipeline systems across various industries.
Contents: The guidelines within ASME B31.3 cover a vast array of topics, including materials, design, fabrication, inspection, testing, and much more. These comprehensive guidelines are designed to ensure the integrity and safety of piping systems, making them invaluable for engineers and designers of vacuum jacketed lines.
Industry Conferences and Seminars
Engagement: For professionals working with vacuum jacketed lines, attending industry conferences and seminars can be invaluable. These events offer networking opportunities, presentations on the latest research and technologies, and insights into emerging trends in the field of cryogenics and vacuum insulated piping.
By exploring and utilizing these tools and resources, professionals in the field can stay informed, continue their education, and ensure that their vacuum jacketed lines are designed, installed, and maintained to the highest standards.
Some applications that would benefit from vacuum jacketed transfer lines include:
Testing Centers

For controlled environments where extremely low temperatures are required.

Liquid Natural Gas Relocation

To transport LNG efficiently, minimizing evaporation and energy loss.

Cryogenic Storage

To securely connect storage vessels and usage points, keeping fluids at low temperatures.

Cryo Transfer Systems

For safely transferring cryogenic liquids from one location to another with minimal heat leak.

Helium Purification Systems

To transport helium while maintaining its purity and low temperature.

Food Industry

Used in freezing processes to rapidly and uniformly cool food products.

Low Boiling Point Liquid Transfer

For moving liquids like liquid helium or hydrogen without significant losses due to boiling and evaporation.
In these applications, vacuum insulated piping plays a key role in maintaining the integrity of cryogenic fluids, offering superior insulation and minimal heat leak.
AET Product Lines for Cryogenic Vacuum Jacketed Transfer Lines:
Bayonets: Quick-connect fittings that allow for fast and secure connections between sections of vacuum jacketed lines.

Pumpouts: Ports that are integrated into the vacuum jacketed line system to facilitate the removal of air and the creation of a vacuum between the inner and outer tubes.

Flex Assemblies: Flexible sections of vacuum insulated piping, designed to accommodate movement and vibration between rigid sections of the pipeline.

Small U-Tube Vacuum Jacketed Jumpers: Short, U-shaped vacuum insulated pipe sections that facilitate connections between different lines or equipment in a compact and efficient manner.

Cryogenic Process Valves (Manual or Actuated): Valves specifically designed for use in cryogenic systems, allowing for controlled flow of cryogenic liquids. They can be operated manually or automatically.
Note: In addition to AET's comprehensive range of vacuum jacketed line assemblies and components, AET can seamlessly integrate third-party components—like additional Bayonets and Pumpouts—to ensure compatibility with an existing system.
This flexibility allows AET to offer solutions that are tailored to meet the specific needs of each customer, regardless of the existing components they might already have in place.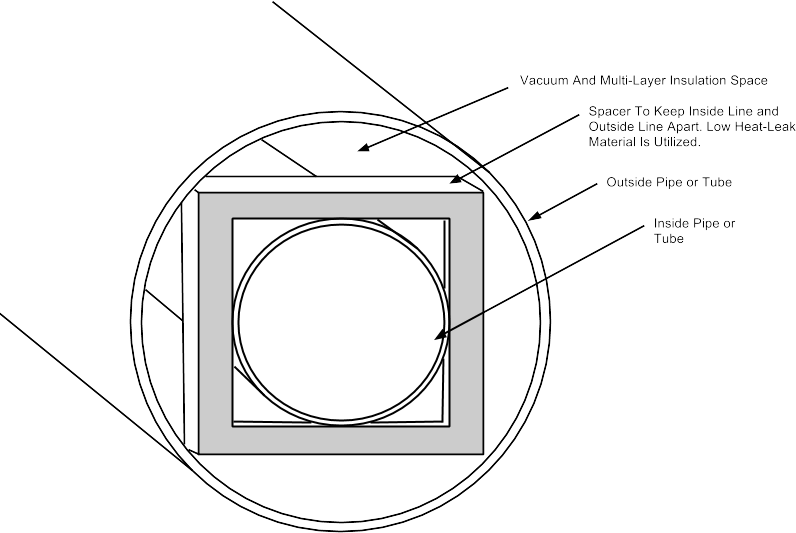 Contact Information
Ability Engineering Technology, Inc.
16140 South Vincennes Avenue | South Holland, Illinois
Postal Code: 60473 | United States of America
Phone: +1 (708) 331-0025   |   Fax: +1 (708) 331-5090
eMail: sales@abilityengineering.com
ASME Section VIII Div 1. U | UM
ISO 9001:2015
Cage Code: 3W141
eMail Newsletter Opt-In
Stay up to date with our latest news updates.
Please feel free to use our contact form and we'll get back to you as soon as possible!