Vacuum Jacketed Transfer Lines
AET Designs and Manufactures vacuum jacketed transfer lines for the cryogenic industry. This application is utilized to transfer gases/liquids with a low boiling point while shielding them from atmospheric interference.
These piping assemblies can also include Flex Segments to help with customer connection point alignment.
Transferring cryogenic liquid without vacuum jacketing can cost a large amount of money due to heat leaks. Keeping waste costs down can mean more funding for other parts of your project, or in some cases, more end product to sell to your end user.
For more information on vacuum jacketed lines, see the tabs below.
These assemblies are commonly used for:
Thermal Expansion/Contraction Relief
Slight Alignment Control
Advantages to AET Flexible Assemblies:
Large Range of Flex Diameters
Multiple End Connection Choices
With or Without Braid (Dependent on Design Pressure)
Material Certifications Available Upon Request
Vacuum Jacketed Pipe (AKA Vacuum Insulated Pipe or Cryogenic Piping) is utilized in systems that require the transfer of low boiling point liquids from point "A" to "B". The diagram below is a typical example of a cut-through vacuum jacketed pipe segment. The inner pipe or tube contains the process medium and is insulated with multiple layers of mylar-based super-insulation. There are low-heat leak spacers placed between the inner and outer tubes to keep them separated to avoid heat leaks via metal to metal transfer. The outer pipe would be fit with a pumpout port to remove air from the annular space and thus create a vacuum insulating area.
Below is a list of tools and resources related to vacuum jacketed lines.
Cryogenic Society of America is a not-for-profit organization that provides information and resources for all things in the Cryogenic industry, as well as organizing their quarterly issue of "Cold Facts" magazine to those interested.
ASME B31.3 is a guideline for piping safety and has been adopted into many vacuum jacketed pipeline designs. The guidelines there-in outline many things, but a table of contents page can be seen at the reference link.
Some applications that would benefit from vacuum jacketed transfer lines include:
Testing Centers
Liquid Natural Gas Relocation
Cryogenic Storage
Cryo Transfer Systems
Cryogenic Adsorbent-Based Gas Purification Systems
Food Industry
Low Boiling Point Liquid Transfer
Some of the products that we have that can be incorporated to our VJ-Lines include:
Small U-Tube Vacuum Jacketed Jumpers
Cryogenic Process Valves (Manual or Actuated)
Although we offer a full range of vacuum jacketed line assemblies and components designed and manufactured by AET, we can also incorporate third party components to mate with an existing system, i.e. Bayonets and Pumpouts.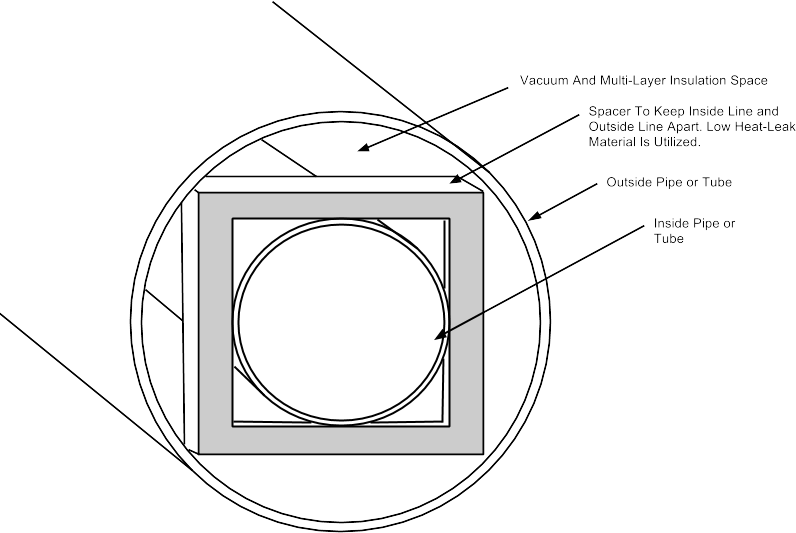 Contact Information
Ability Engineering Technology, Inc.
16140 South Vincennes Avenue | South Holland, Illinois
Postal Code: 60473 | United States of America
Phone: +1 (708) 331-0025   |   Fax: +1 (708) 331-5090
eMail: sales@abilityengineering.com
ASME Section VIII Div 1. U | UM
ISO 9001:2015
Cage Code: 3W141
eMail Newsletter Opt-In
Stay up to date with our latest news updates.
Please feel free to use our contact form and we'll get back to you as soon as possible!